Literacy – practical support?
Our Books go Walkabout team are out and about over this coming Spring and summer delivering our pop-up children's bookshops in a variety of settings.
Here's what they can look like…
# We sell the very best quality children's books at two price breaks – £5.00 and £2.00.   We do 10 minute 'get-ins' and 'get-outs'.
# We can build themed book baskets – plants, animals, space, art etc., to compliment your themed event.
# We can offer free books in exchange for reader reviews – and we'll publish them on the pages of BgW of course (with parents/carers permission and all our usual security and anonymity…).
# We can do a bookshop 'drop-by' event in the lobby, a corner of the hall or community centre, even in a school car-park, weather permitting.
Why not combine a book shop with one of our children's author visits or a Skype call with an international author?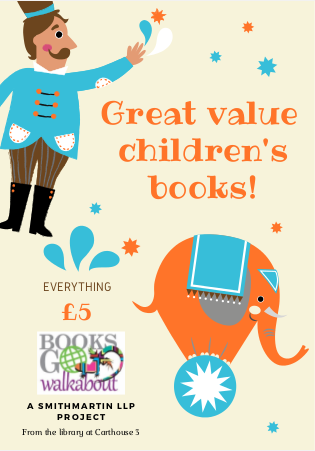 Make a whole book day of it! Contact Sue Martin at BooksgoWalkabout to make your booking…see more of our Partnership here
---