Literacy – practical support?
January 2021 Update:
We are isolated, standing at the window watching the rain fall on a cold day. We remember all the cosy corners, tarmac pitches, libraries and lobbies we have occupied over the years.
Books delight children, parents, carers and teachers. Everybody's brain needs escape and refreshment, whatever your age. Books do it every time!
We look, and wait, for another opportunity to pitch our book stall again.
We know it will come…
---
Our Books go Walkabout team are out and about over this coming Spring and summer delivering our pop-up children's bookshops in a variety of settings.
Here's what they can look like…
# We sell the very best quality children's books at two price breaks – £5.00 and £2.00. We do 10 minute 'get-ins' and 'get-outs'.
# We can build themed book baskets – plants, animals, space, art etc., to compliment your themed event.
# We can offer free books in exchange for reader reviews – and we'll publish them on the pages of BgW of course (with parents/carers permission and all our usual security and anonymity…).
# We can do a bookshop 'drop-by' event in the lobby, a corner of the hall or community centre, even in a school car-park, weather permitting.
Why not combine a book shop with one of our children's author visits or a Skype call with an international author?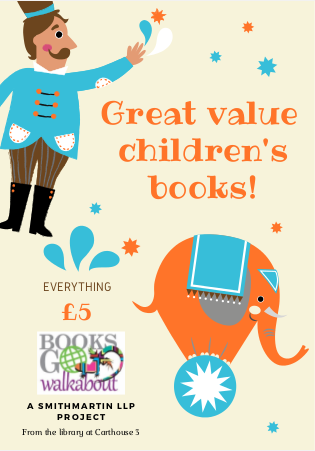 Make a whole book day of it! Contact Sue Martin at BooksgoWalkabout to make your booking…see more of our Partnership here
---