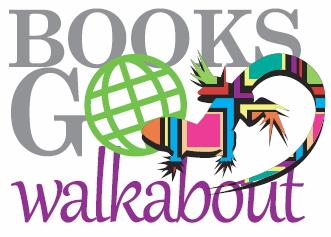 See a sample of our author and illustrator profiles below…Ken Wilson Max, Jill Calder, Carole Wilkinson, Candy Gourlay and Ifeoma Onyefulu…
# We are always happy to engage creative people to support your work or setting.
# We will blend the work to support your curriculum or event aims.
# We support our authors and illustrators on your day.
# Making sure any books you have ordered are delivered well in time.
# We can support book purchases directly from your parents and carers by creating a specific secure web page or pre-event flyer.
---
To have a diary date discussion or to explore our support options, fees and invoicing arrangements – contact suemartin (AT) booksgowalkabout.com
We carry full professional indemnity insurance, public liability, employer liability and product liability cover at all times. Full details upon request if required.
---
Booking events & creative engagements now for…
---
Author, Illustrator, ideas creator, publisher…
Ken writes, illustrates and publishes children's books. This year he has three new publications; The Flute, published by Tiny Owl Publishers, Lulu's First Day and Astro Girl, published by AlannaMax.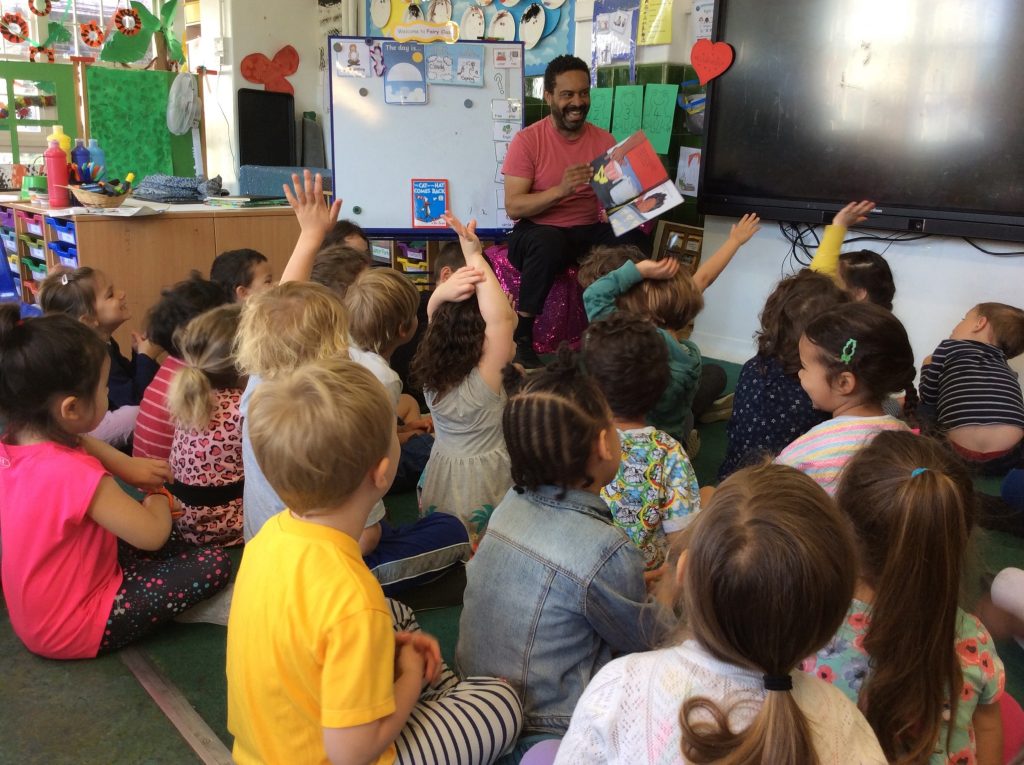 Ken writes and compiles 'Chicken' a Newspaper for Children, which is packed with ideas, initiatives and current affairs. Each edition has a focus rather than a date and you can always get back copies on the subjects you need.
AlannaMax is his publishing organisation with a huge range of strikingly good books for young children. These include Zeki Can Swim, nominated for the IBBY International's List of Outstanding Books for Young People with Disabilities 2019 and What Are You Playing At?
Books Go Walkabout are delighted to be working with Ken on school visits and workshops. His ability to engage with children of all ages is amazing and our schools have been delighted with his work with classes of children bursting with energy to write and to draw.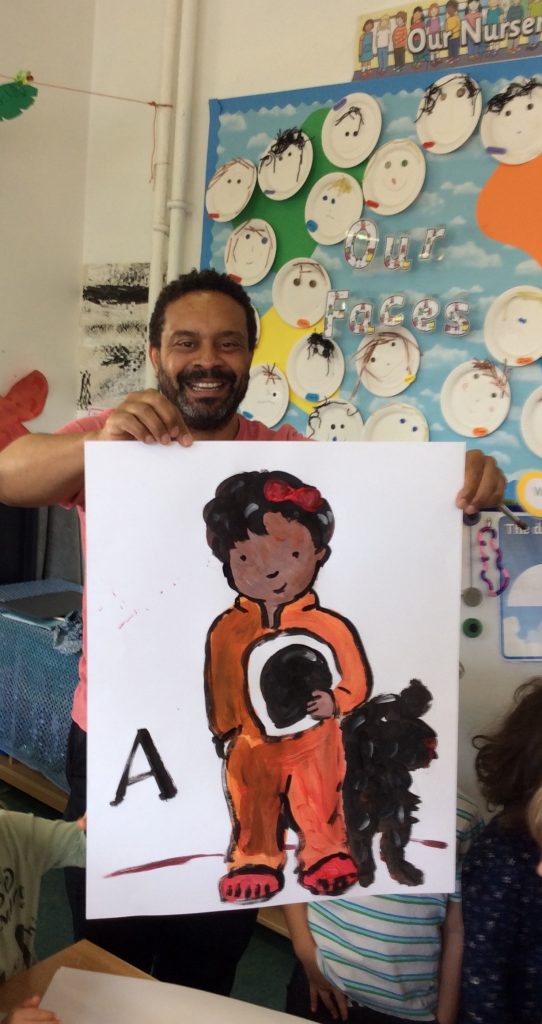 Even when surrounded on all sides by enthusiastic children, Ken can paint beautiful pictures which come alive in the children's eyes.
Booking now. Contact Sue at BgW here…
---
Jill Calder is an award winning illustrator and lettering artist based in Scotland. She studied at both Edinburgh College of Art and Glasgow School of Art, and for 14 years was a lecturer in Illustration at Edinburgh College of Art until she left to pursue her career as a full time illustrator.
Through Jill's work, she's also been invited to guest lecture at various schools, universities and events throughout the UK, USA and Far East.
Jill loves drawing, ideas, colour, ink, typography, narrative, sketchbooks, making books and even deadlines! I blend traditional and digital drawing seamlessly to create richly layered illustrations full of people, animals and places. Illustrating grittier, more challenging subject matter is just as rewarding as tackling more whimsical themes, hence why her work has broad appeal from adults to younger children.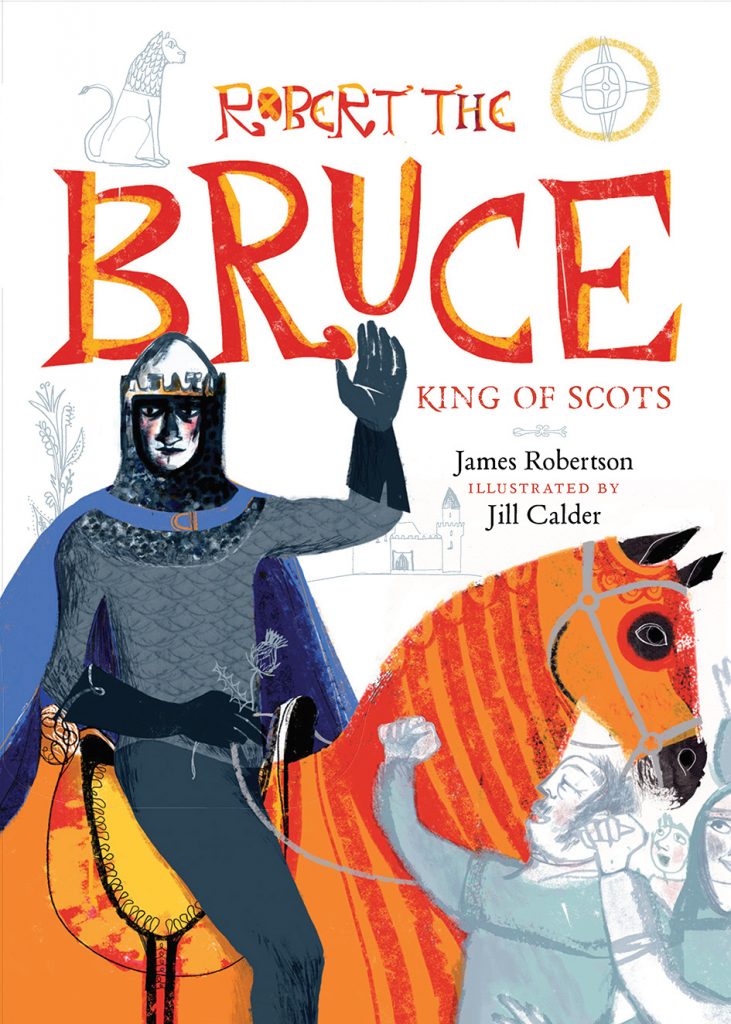 It's only in the last few years that Jill has started to focus on illustrating books for children and this sequential process, alongside working with a writer and editors is one she enjoys enormously. Robert the Bruce, King of Scots was Jill's debut picture book and was subsequently shortlisted for the World Illustration Awards in 2015.
Her second book, The Picture Atlas: An Incredible Journey (written by Simon Holland, 2017) was shortlisted for Children's Travel Book of the Year in the Edward Stanford Awards. What is Poetry? by Michael Rosen and illustrated by Jill was nominated for the CILIP Carnegie Medal 2018.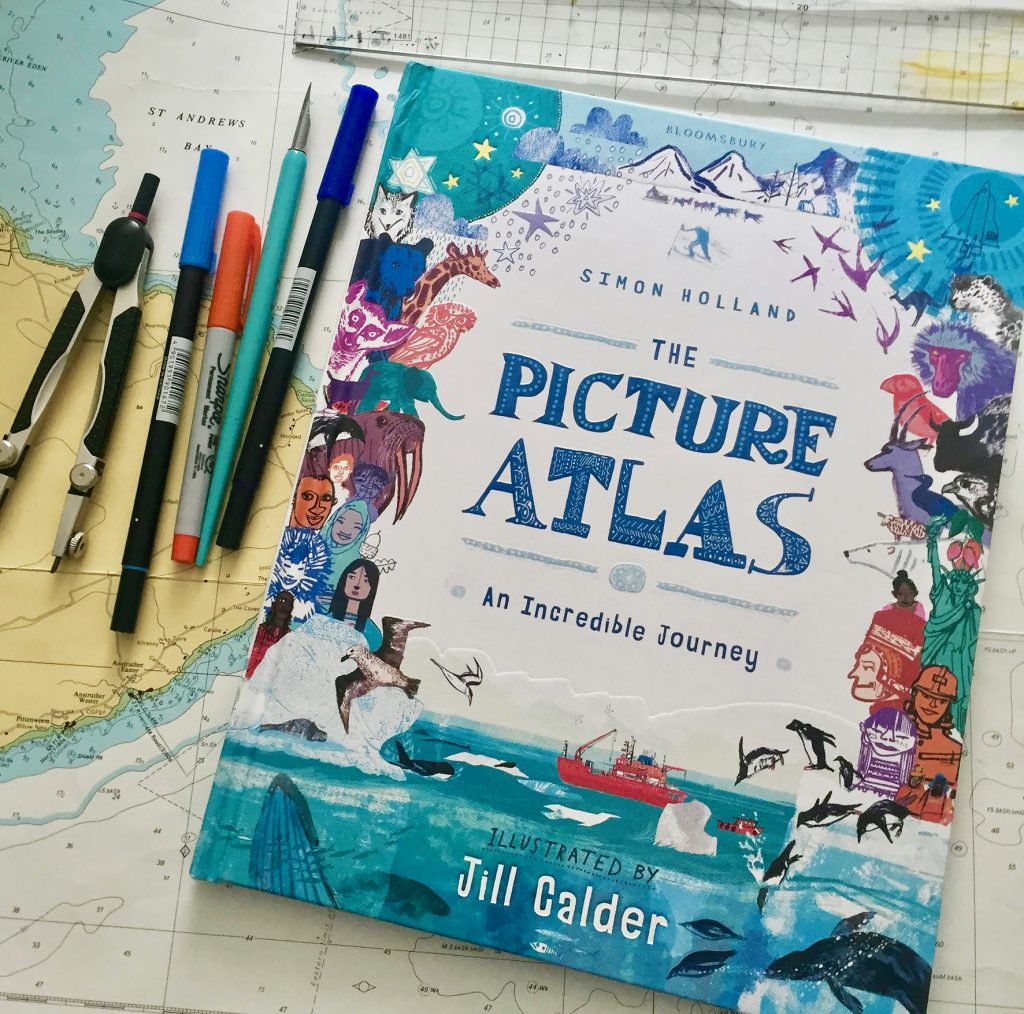 Jill's work was recently on show in Mumbai, India, alongside 9 other illustrators in 'Drawing Words', a new exhibition of British Children's Book Illustrators, curated by Children's Laureate Lauren Child and commissioned by The British Council. The exhibition continues to tour around the world including China, Spain, Romania and Pakistan, where Jill will open the exhibition in Lahore and conduct workshops in the new British Council library there.
Jill's next picture book, The Sea, (written by Miranda Krestovnikoff) publishes in April 2019 and she continues to develop her own picture books as both author and illustrator.
Discover Jill's work here – www.jillcalder.com
Now booking for events. Contact us here…
---
Award winning author of Dragonkeeper and the Ramose series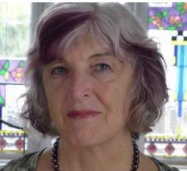 The first in an amazing series of 'Dragonkeepers' in Ancient China during the Han Dynasty. A slave girl saves the life of an ageing dragon and escapes her brutal master.
Pursued by a ruthless dragon hunter, the girl and the dragon make an epic journey across China carrying a mysterious stone that must be protected.
This is the story of a young slave girl who believes she is not worthy of a name but finds within herself the strength and courage to make this perilous journey — and do what must be done.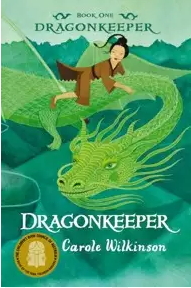 Carole is passionate about understanding life in Ancient China, especially about dragons. She writes with huge amounts of knowledge and flair from her extensive research about the Han Dynasty (200 BCE).
The Books Go Walkabout team have worked with Carole in schools in different places across the world, either through visits or Skype calls. She is amazing with the students and loves to discuss the way the stories unfold from the beginning ideas, to a story sequence and unfolding of narrative and characters.
---
Carole lives in Melbourne, Australia and we are working with her in Hong Kong and in the UK via Skype in 2020. She was part of our highly successful team of authors at BookFest at Kellett, The British International School in Hong Kong. Students gained an extensive knowledge bank about writing.
Some of the ideas are below, and you can find more on Carole's website. There is also a large amount of information on Ancient China available.
The following ideas for the classroom are part of the BookFest Programme which was held at Kellett International School in Hong Kong.
The Dragonkeeper Trilogy- the skills of story writing Year 5/6
The research of a story based on historical facts is important. As the story will be fictional the intrigue will be in the adaption of ideas and surmising a plot and story around known events and characters.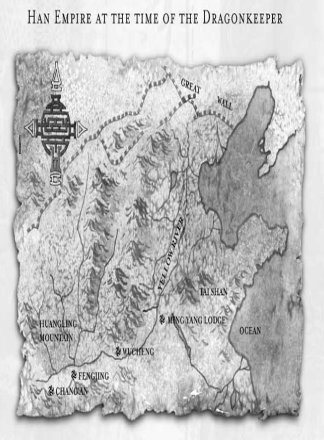 Carole's first idea was about wanting to write a story about Ancient China, how it was set in a time span and looking at the characters and lives of people at that time.
Carole has a well-documented explanation about collecting her idea for the Dragonkeeper series on her web site under 'Research'.
Some starter points we use in schools.
Transport your reader to that place in your mind, let them see what you see and feel what you feel. What does the dragon feel like, are his scales hard or rubbery, is his spine wobbly and what does his horn and fins feel like?
In a picture with a man and a dragon, there is the feeling that the dragon has curled himself into the same size as the human, is he like a pet or a friend and companion? The man is rich and elegant and carries a staff not a sword.
Looking for clues, i.e. servants in the Han dynasty were not allowed to look into people's eyes, look carefully at the images.
Develop the thoughts for the story, i.e. – in China, this is the only country where dragons are friendly.
They make the rain and are essential to life, they don't breathe fire, they breathe mist, and they sleep through the winter in deep water and are brought out of hibernation at Chinese New Year with the loud banging of drums and cymbals. They have favourite foods, roast swallow, they fly through the air but do not always have wings. They are the colours of red, yellow, and green, black and white.
---
Some of the testimonials for Carole's work in schools show how her visits are of great benefit and also great fun.
Reviews
"The story explores themes of trust, courage, power, greed and love in a meticulously researched setting. It is a story that informs as it delights and leaves the reader with a yearning to know more."
— Judges' Report 2004, Children's Book Council of Australia, 2004
"… an ambitious novel, marrying ancient Chinese history and culture with magic and fantasy… the sights, smells and tastes of this fantastic ancient China are fully realised."
— Bookseller & Publisher (Children's Supplement), November 2003
Reader reviews
"During the whole of the story, my eyes were glued to the book, not even stopping to eat! I recommend it to any reader of any age."
— Frank P
"Last night I finished reading the Dragon Keeper to [my children]. It is not often that everyone in our family has enjoyed a book so much. Thank-you for some beautiful writing."
— Michael F
Recent books include…
Atmospheric, which is available in Australia. Carol writes with passion about climate change and students will know they are the key to the solution.
Ten Pound Pom is the story of Carole's immigration into Australia. A great story about a very special time.
"Between 1945 and 1982 around one and a half million people emigrated to Australia under an assisted migration scheme. I was one of them. When I was 12 years old, my family and I travelled on a P&O liner visiting exotic ports on a 12,000-mile trip of a lifetime. For my parents, the cost of the voyage was 10 pounds each. My brother and I travelled for free". Carole Wilkinson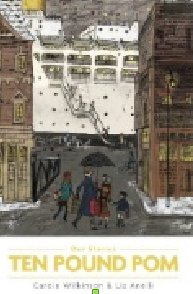 Ten Pound Pom is shortlisted for APA Educational Publishing Award in the Picture or Chapter Book Category.
Carole's awards include; Winner of 2014 Graham Davey Citation, Young Australian Best Book Award (YABBA) (Dragonkeeper series) Winner of 2013 Gold Award – Book Series, Illustrators Australia (Dragonkeeper series) and Winner of 2006 Older Readers, Kids Own Australian Literary Awards (KOALA)
---
About Carole
Carole Wilkinson is an award winning author from Australia. She has written over 30 books, many are for children of between 9 – 15 years. Her most famous series is The Dragonkeeper series which are set in the Han Dynasty in 141 BC, the year that Emperor Jingdi died and his young son Wudi took over as Emperor.
Carole travels and delivers talks and lectures on her books in her home country of Australia, and also in China.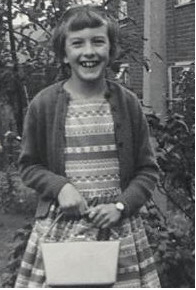 "I didn't start writing until I was quite old — nearly 40. Before that, I worked as a laboratory assistant. My jobs involved working with a lot of blood and brains. You might think this sounds a bit gory, but I quite enjoyed working in a laboratory. The trouble was I always had this niggling feeling that it wasn't what I was meant to be doing.
One day I realised what I've always wanted to be—a writer! I don't know why it took me so long to work that out. When I was at school in the 1960s (a very long time ago) it didn't sound like the sort of thing a girl from Port Adelaide could ever do, so I suppose I didn't think of it back then. Once I'd decided to try and become a writer, I went to university.
I wrote lots of things at university including my first novel. I didn't think it was very good. I showed it to a friend who worked in publishing. I don't think she thought it was very good either, but she must have seen some potential because she asked me if I could write a teenage novel.
'Yes,' I said, when actually I was thinking 'Are you serious? Of course I can't!'
I'd never thought about writing for young people. I tried to think of a story. My daughter was at high school, and something she was doing at the time gave me an idea. My friend liked my idea. So I went ahead and wrote the whole novel. That was my first published book. It was published in 1996 and was called Stagefright.
I sometimes wish I'd started writing when I was younger, but then I think things have worked out okay. I find that I have lots of ideas and so far I've never had 'writers' block' (touch wood).
I might have got a late start, but I've been trying to make up for lost time. I've written 30-odd books, some short stories, a tele-movie and some TV and planetarium scripts."
Now booking for e-events in 2020 – contact us here for more information…
---
Author of Tall Story, Shine and Is it a Mermaid? Plus many other books too!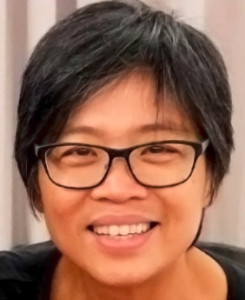 An amazing author, Candy has a wide range of stories to tell and has an engaging style of writing, leading you into the story and unable to put the book down!
Candy is also brilliant at talking with children, loads of encouragement about writing, imagination and interesting topics.
'Tall Story' was Candy's debut novel and was the winner of the Crystal Kite Prize for Europe in 2011, and the National Book Award in the Philippines. It was also nominated also for the Carnegie Medal and shortlisted for 13 prizes including Blue Peter and the Waterstones Prize.
It is a story about a sister, Andi and a brother Bernardo, Andi lives in London with their Mum and Bernardo lives in the Philippines with their Auntie. Separated through their Mum's work they do not know much about each other and live in two very different places. Andi hasn't seen Bernardo for 10 years when he arrives in London. Imagine the surprise when Andi who is too short to get in the baseball team, meets Bernardo from the plane and he is nearly 8 ft tall!
This is a story about how to live with yourself as a young teenager, about belonging to a team, I.e baseball, and how to deal with difference like gigantism. It is also a story about two cultures, how lives can be intertwined and yet so different.
Andi discovers that Bernardo is not what he seems, he is a hero, he can work miracles and he has an amazing story to tell.
---
Shine – Winner of many wards, including GR8 Book Debate 2016 and Crystal Kite Prize for Europe in 2014 and shortlisted for many more.
On an island called Mirasol, Rosa lives with her father and helper. She has a strange condition and is shunned by the superstitious islanders, living in isolation in her house, scared to go out. Her mother had died mysteriously and every night Rosa lights a candle to get in touch with her.
One day she is chatting online and develops a friendship. Another day her mother seems to turn up at the front door.
This is a great read and deals with issues like being alone with a condition that is not understood, how to make contact online, being alone and trying to be understood.
---
Is it a Mermaid?
Candy's first Picture Book and illustrations by Francesca Chessa.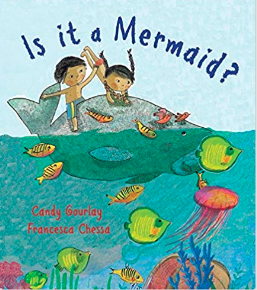 When Benji and Bel find a strange creature on a tropical beach they know it is a dugong. But the dugong insists she is a beautiful mermaid.
After many attempts to convince the children that she really is a mermaid the dugong swims away with her tail splashing into the warm ocean.
Candi brings a tropical world to the reader in a captivating and imaginative way.
You can listen here to Candy in discussion with Francesca Chessa talking about the idea of the story and the dugongs and mermaids.
See the pictures and listen to the ocean in the video above.
---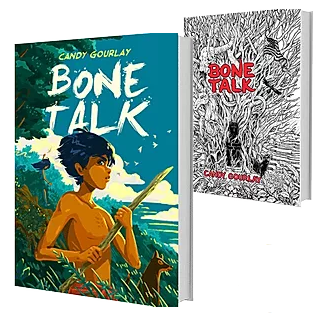 Bone Talk is a recent book which was published in August 2018
Set in 1899 Samkad thinks he know all there is to know about the world. He wants to be a warrior but everything changes when a boy arrives in the village who tells of Americans close by.
---
Candy was born in the Philippines and brings stories from that culture into a western world. She currently lives in North London with her family and is writing more and more books. She enjoys getting into schools and meeting with children talking about stories, writing, reading and what life is like for children and young people.
Candy has visited many parts of the world to talk about her books and writing and also gets into Skype conversations with schools from all over the world.
To make contact with Candy and BooksgoWalkabout, just send an email to suemartin@booksgowalkabout.com and we will start your author journey together!
Or use our contact us page here…
---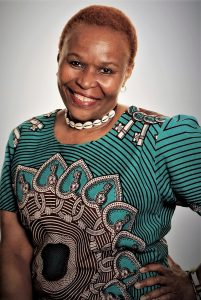 Ifeoma Onyefulu is an award winning author and photographer.
Ifeoma is from Nigeria and lives in North London, UK. She is passionate about sharing the colour, and vibrancy of Africa, portraying in stunning photographs and text about family life and people in Africa.
A richness of life, a community rich and vibrant, and a continent steeped in stories and myths. This is how Ifeoma's books vividly portray African life.
Ifeoma's books are unique in reaching directly into the life and spirit of people in African communities. They are full of colourful images which show a happiness and warmth of children and families.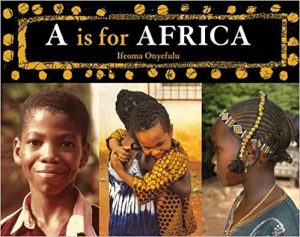 Ifeoma started with A is for Africa and developed an alphabet with a difference, a wonderful collection of words with very different meanings from our own more conventional alphabet collections. This eclectic way of experiencing an African dimension continues in all of Ifeoma's books.
The unique quality means A is for Africa is for a wide age range of children, it fits into many different areas of the school's curriculum, including literacy, geography, and personal, social, emotional and health, and RE. They make excellent books for working with children from different countries and in our own organisation; we have used them many times as an introduction, enabling children to talk about communities they have left behind.
Ifeoma's work has already won many awards. In 2008 she won the Children's Africana Book Award with Ikenna goes to Nigeria and also in 2005 with Here Comes Our Bride.
There is no doubt that Ifeoma will continue to be successful as both a story writer and a photographer. She will bring African life directly into our own world as a place of vibrance, colour, warmth and happiness.
The following ideas for the classroom are part of the BookFest Programme which was held at Kellett International School in Hong Kong.
Our team at Books Go Walkabout prepare resources and materials to fit the needs of the year group and school curriculum to support learning and attainment outcomes.
---
Using Ifeoma's Book A is for Africa
Suggested preparation for Reception classes, curriculum link – description and culture…
A is For Africa
• Find Africa on Google Earth or in atlas
• Teacher to read the author's notes and to talk with the children about the clothes, beads, music, family life, houses, games, masquerades.
• Note the links to sharing, family life, cheerfulness, being together.
Suggested Activities
• Create a collage of Africa and add pictures and text from the children.
• Create an alphabet around the classroom using suggestions in the book or their own
• Make some hats, masks and beads
• Weaving with paper or materials
• Make some bead necklaces
Booking events and visits now – contact us for details…
---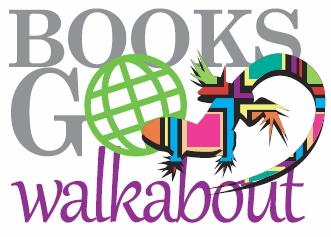 a href="#